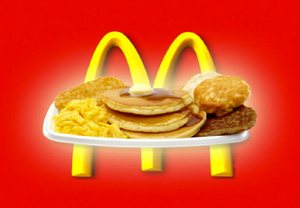 The Breakfast menu is offered by McDonald's during the morning. Currently the breakfast hours are 5:00AM to 10:30AM on weekdays, 5:00AM to 11:00AM on the weekend in most markets. The company pioneered breakfast fast food with the introduction of the Egg McMuffin in 1972 when market research indicated that a quick breakfast would be welcomed by consumers. Five years later McDonald's added a full "Deluxe Breakfast" line to the menu, and by 1987 one-fourth of all breakfasts eaten out in the United States came from McDonald's restaurants. In test market locations, such as New York City, McDonald's added a full breakfast line to its menus in 1975.
Breakfast items
McDonald's primary breakfast offerings are breakfast sandwiches.

McMuffins are McDonald's signature breakfast sandwich, first sold at select restaurants in 1972 as the Egg McMuffin, five years before breakfast officially went into effect, it consists of a fried egg, Canadian bacon and American cheese on a toasted English muffin. Sausage, chicken, or bacon McMuffins are also available.
McDonald's offers a line of breakfast sandwiches: bagels, biscuits, and a special type of maple flavored pancake called McGriddles. All can all be ordered with sausage, chicken or bacon, with an optional choice of cheese and/or egg. Regional meat offerings include steak, spam and bacon.

There are two styles of breakfast burritos available. The Sausage, Egg and Cheese Burrito, introduced in 1991, is made with a flour tortilla, sausage, American cheese, eggs, onions, and peppers. The new McSkillet wrap burrito adds potatoes and salsa. Chicken and steak variants of the McSkillet burrito exists in limited areas.
Additional breakfast items include hotcakes; several breakfast platters with eggs, hash browns and meats or breads. Biscuits and gravy are available in parts of the southern U.S.
Oatmeal was added to the breakfast menu on December 27, 2010, after it test marketed well in Washington, DC and some parts of Maryland. In the test market areas, oatmeal started selling in late-January 2010.
Hawaii and Guam McDonald's offers local breakfast items such as Spam, Portuguese sausage and fresh cut pineapple.
In England, McDonald's offers the standard McMuffin, Double McMuffin, and a range of wraps, that consist of Sausage & Egg, Bacon & Egg, or Cheese & Egg, or you have to option to have the full wrap called the Breakfast Wrap which consists of Sausage, Bacon, Egg, Hash Brown (Potato Rosti), Cheese and an optional sauce, eitherKetchup or Brown Sauce.
In Costa Rica, McDonald's offers the "Mc Pinto", which consists in the traditional "Gallo Pinto" served with fried sweet plantains, scrambled eggs, sausage, corn tortillas and natilla (a local version of the sour cream).