For over 20 years, Mary Meeker has built a career on understanding how the internet works and where it's going next. In 1995, while working for Morgan Stanley, she published her first Internet Report, a tome for investors hoping to buy smartly into the dot-com boom that was occurring at the time. It's worth noting that she did take some criticism for maintaining a rosy outlook in the lead-up to the bubble's inevitable burst and crash, but she swiftly rebounded and pivoted into a return to prominence in the industry. Her reports have continued since that time, offering thorough analysis of internet trends and forecasts about which tech companies are best positioned to succeed moving forward.
Now, her reports are important for a much wider audience than just investment bankers. They've become vital documents for the business world in general. For marketers, they can be especially poignant, illustrating detailed user trends and giving insight into the best new ways for companies to spread their messages.
This year, she focused on a wide range of internet-related topics – from the broad to the minute. Let's go through some of the sections of her presentation that are most pertinent to marketers:
Macro Trends
Meeker began the presentation by addressing global, macro-level trends among internet users. She showed that, while worldwide internet usage continues to grow, that growth has been steadily slowing down for some time. The exception to that trend is India, where companies have been focusing increasingly more time and resources (some with more success than others).
A similar slowdown has affected the growth rate of worldwide smartphone sales. Within that trend lies a sub-trend, so to speak, wherein Android has been gradually gaining market share on Apple for the past three years. It remains to be seen whether Apple's recent revamp of the Siri personal assistant will be successful in stemming that tide.
Ad Trends
While overall internet usage growth is slowing, internet advertising growth continues to accelerate. This should come as no surprise to anyone who's been frustratingly forced to contend with the wide range of new ad types thrown at us.
Of this growing glut of ad spending, Google and Facebook are accounting for an increasingly disproportionate chunk. According to Meeker's source, the two companies currently share 76% of internet advertising growth – and that number should only continue to rise.
On top of this, she outlines why the current crop of common ad strategies has a long way to go in terms of efficacy. She quotes Unruly's findings that 81% of users mute video ads, 62% are put off by brand-forced, pre-roll video ads, and 93% would consider using ad blocking software. Speaking of blockers, she includes a graph showing that mobile ad blocking has been on a steep increase since 2014.
Messaging App Trends
Meeker sees messaging apps as a fast-growing alternative to the traditional homepage for mobile phones. Because there is now such a wide variety in the types of messages that can be sent and received through these apps – money transfers, pre-recorded and live videos, and file transfers are all available within Facebook's Messenger – users are already beginning to see them as more of a foundational feature.
Ina Fried reflects a similar sentiment: "The [homescreen] has acted as the [de-facto] portal on mobile devices since the arrival of the iPhone and even before. Messaging apps, with context and time, have a chance to rival the [homescreen] as the go-to place for interaction."
In her view, as messaging apps move from being strictly for personal conversations to also being facilitators of complex business transactions, we'll find ourselves spending more and more time using them. As this occurs, businesses from many sectors will find opportunities for growth and branding via messaging.
This trend coincides with the much-discussed end of the app boom over the past year or so. Since the homescreen on a typical smartphone is nothing more than a grid of apps, it makes sense that we would gradually find ourselves seeking out a more useful portal. If messaging apps continue to grow in functionality, Meeker's prediction could very well pan out.
U.S. Poised to Resurge as Auto Mecca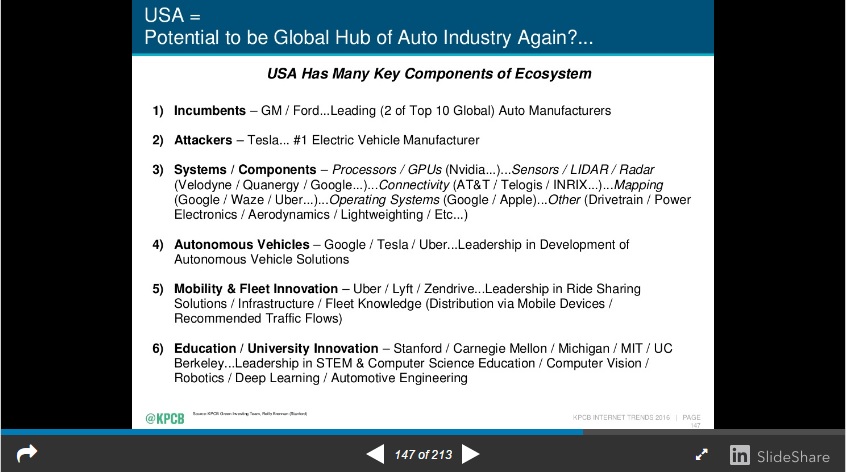 We've spent the past year or so in the midst of a highly contentious presidential election cycle. Media coverage has been more focused on the absurd elements of the campaign than details of policy, and perhaps that's contributed to a general cynicism about the state of the country amongst the populace.
That's why Meeker's set of slides about the state of the U.S. auto industry – heavily maligned for the past two decades or so – were a refreshing breath of cautious optimism. While auto leaders like GM and Ford still fight an uphill battle, U.S.-based up-and-comers on the West Coast may be signaling a new path to auto prominence. American companies like Uber, Lyft, and Tesla are all part of a hi-tech revolution in the auto industry. Complex computing is now required for every trip we take in our cars, and these companies are on the cutting edge of that technology. In the slide below, she shows the different approaches Tesla and Google are taking in the race for fully autonomous vehicles: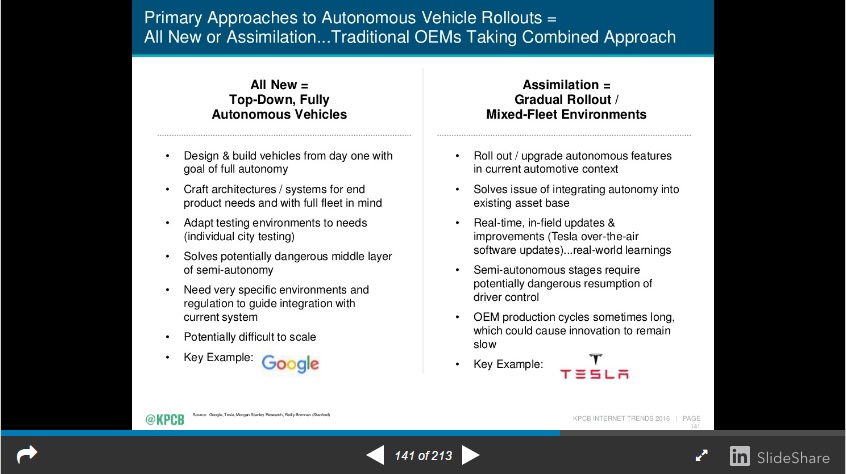 While Google is taking the more aggressive approach, hoping to hit the market directly with full automation, Tesla is taking a more gradual approach, allowing them to integrate automation into their existing fleet of cars. Whichever approach wins out, it's good to see American automakers leading the way once again.
Imagery is Key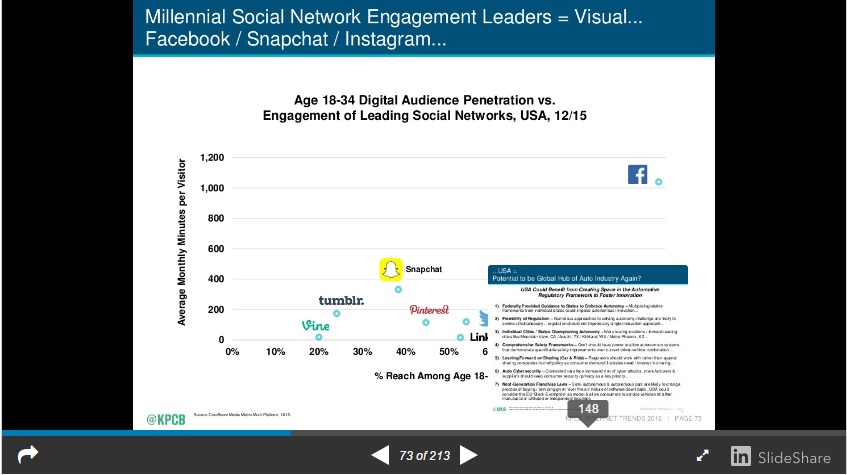 There is a wide range of opinions as to why companies like Twitter and LinkedIn haven't been able to grow their user bases on the same scale as their counterparts Instagram and Snapchat. Here, Meeker taps into what may be a simple but important reason: imagery.
Social media users – especially those in the always-coveted 18-34 year-old demographic – are becoming increasingly reliant on platforms that prioritize imagery. For Facebook and Instagram (owned by Facebook), that comes in the form of photo uploading and sharing. Users create photo-based profiles and curate them diligently, forming a longstanding digital identity. In the case of rapidly-growing Snapchat, users post decidedly less curated content as a way to communicate directly with friends. Video additions to the platform like Story and Discover create immersive photojournalistic experiences, as well.
For text-based companies like Twitter and LinkedIn, these imagery-rich, interactive experiences may prove too tough to compete with.
Recap
Meeker made her initial rise to fame during the dot-com bubble of the 1990s because of her ability to see important avenues for growth on the internet before the rest of the world. But she's no fortune teller, and doesn't claim to be. The value of her annual reports is derived not from their predictive power, but from their ability to distill the wide-ranging trends and statistics that surround us in the present tense into actionable stats and meaningful strategies.
This year's report was no exception, and it will be interesting to see which players in the tech industry are able to capitalize on the trends outlined within it.