Back in September of 2015, a group of girls from an Arizona State University sorority attended a Diamondbacks game against the Colorado Rockies. At some point during the later innings, television cameras caught the group engaging in a lively display of selfie taking – alternating between solo and group shots, seemingly enjoying themselves. Confounded, the announcers – both middle-aged men – spent the rest of the game intermittently mocking the students, flabbergasted at how that could be an enjoyable way to spend time at a ballgame.
Stop what you're doing and watch this video of teens taking selfies at a baseball game http://t.co/sZrf1bxViT pic.twitter.com/kK7nYx2Nsf

— Cooper Fleishman (@_Cooper) October 1, 2015
The video of the incident ended up going viral, and almost a year later it's still representative of the chasm between the baby boomer and millennial generations. For people who were born in the aftermath of World War II, it's easy to see things like selfies and emojis as worthless or asinine. While they're well within their rights – frankly, these fads often can be ridiculous – the fads in question are really nothing more than vehicles for communication, only as worthless as the content that's made with them.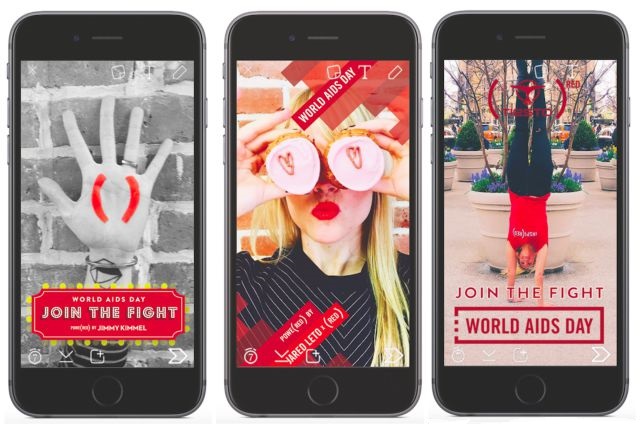 Snapchat's Charitable Functions
Recently, Snapchat has tried to expand the utility of the selfie-swapping that its app facilitates, bringing an altruistic element to the selfies that users take on its platform. To accomplish this, they've used their built-in set of rotating filters as a way to get people engaged in a good cause. In November, they announced a partnership with Product Red, which is an AIDS research charity founded and run by Bono, of the band U2. On Tuesday, December 1st of last year (World Aids Day), Snapchat offered three sponsored filters that lasted 24 hours, shown above. For every snap sent using one of the filters, the Bill and Melinda Gates Foundation donated $3 to the organization's fight against AIDS.
It's a smart move by Snapchat, because it helps them boost their corporate social responsibility cred and get users more engaged. Filters have been a major part of the company's strategy for the better part of the past two and a half years – and for good reason.
One thing that gets users more engaged with a social media platform is the extent to which it enables them to express their creativity. Snapchat recognized this early on by including a drawing function, followed by a few basic filters shortly after. More recently, they've continued this trend with such filters as the "zombify" and "vomit rainbow" (names not officially sanctioned by Snapchat). Now, nonprofits such as Product (Red) are able to join in and benefit from that increased engagement for a great cause.
Facebook's Charitable Functions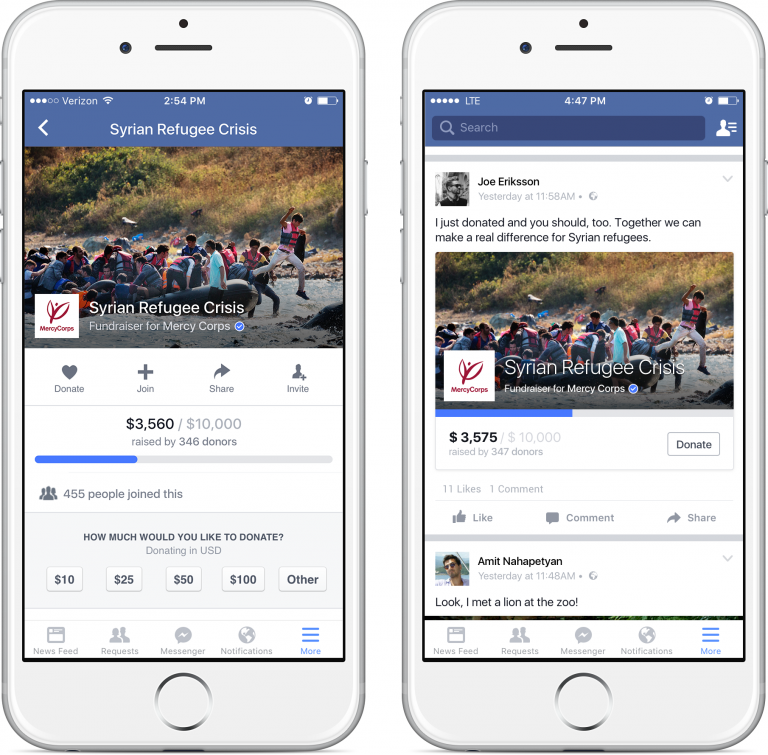 source: donations.fb.com
Headed by Mark Zuckerberg (who's never shied away from an opportunity to be publicly charitable), Facebook is also exploring new ways to incorporate social justice into its platform. A recent press release from the company announced a new set of tools for nonprofits:
We've seen from our community that when people take action, lives are changed. We know we can do more to enable these connections.
To do this, they've revamped the fundraising page template and made the "donate" button more flexible for the individual needs of different nonprofits.
The hope is that these changes will lead to more successful fundraising campaigns by making it easier for nonprofits to promote and easier for their audiences to donate. While a button for donations has always been available, it can now be shown on individual posts as well as the general page.
This can make a huge difference. The fewer clicks that are necessary, the more likely a user is to follow through with the donation. Streamlining the process from "Hm, I should really contribute" to "Wow, that was easy" alleviates security concerns as well as second-guessing on the part of the user. And in fundraising, as with all web-related endeavors, user experience is king.
Facebook now also features dedicated campaign pages that are centered on a specific fundraising campaign. In a world where brands and nonprofits live and die on the ability to go viral, creating individual campaign pages makes that feat much more accomplishable. Featured in the image below is an example of how advantageous it is to incorporate donate buttons onto individual posts. Maybe the National Multiple Sclerosis Society's main page isn't exciting enough to elicit donations from certain portions of the population, but seeing a heartfelt endorsement from well-loved celebrities like Amy Schumer very well could be. Also, this improves the reach of the option to donate in general. Since individual posts will show up on those who've liked the page in addition to their friends, there's simply more potential for fundraising dollars.
Ultimately, social media platforms like Facebook and Snapchat have plenty to gain from the feel-good engagement that nonprofits can inspire. When users donate to a cause they believe in (or in Snapchat's case, directly inspire donations from a third party), they automatically have a good experience because it makes them feel like they are making an actual difference. Still, it's great to see platforms like these progressing in ways that make growth easier for nonprofits. Some industry experts expect that Facebook may eventually make these tools available to for-profit companies as well, but it's still worth commending that the nonprofits are getting the first shot at the pie.