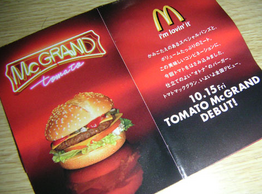 The Tomato McGrand was a sandwich served in McDonald's Japan restaurants. It was introduced in 2003 and was nearly identical to the Arch Deluxe introduced in the United States, but lacking the peppered bacon.
The marketing campaign portrayed fashion models in recognizable McDonald outfits designed by Yohji Yamamoto. Female super model Agota Varga (Hungarian, born 1982; represented by Tomei Management at the time) was featured in a 30 second commercial in 2004. The advertisement was one of the most discussed commercial from 2005 to 2011 worldwide. The director of the commercial, Hidekazu Sato from Beacon Communications - a joint venture of Leo Burnett and Dentsu - said the costume was so recognisable it was a mnemonic - a design that people would instantly associate with McDonald's.
"We devised the costume and took the red and white stripes and the yellow, which were recognised and converted them into a stylish dress. We were assuming that even if we didn't include the McDonald's logo and even if the model was a beautiful Caucasian just those colors of the mnemonic design would wake up people's association with McDonald's. The important point is we didn't change Ronald himself - we played around with his costume. The customers are calling her the female Ronald but that was not our intention," Kazoo said to The Guardian .
Commercials
Gallery